Risograph printing: A low cost printshop in a box
The RisoLAB at the School of Visual Arts in New York City is the only dedicated educational Risograph printing facility of its kind, offering classes and workshops in Risograph printing for designers, illustrators, cartoonists, photographers, and creatives from all corners of the art world.
Learn

More

about: Risograph printing: A low cost printshop in a box

Online Classes at the RisoLAB!
Our RisoLAB Remote Series is a suite of online courses that focus on the design, file preparation, and conceptual work that goes into preparing a Risograph print project. Register for our Fall 2023 courses today!
Learn

More

about: Online Classes at the RisoLAB!

SVA RisoLAB
Since 2015, the SVA RisoLAB has offered Risograph print based classes, workshops, an Artist-in-Residency program, and Open Lab Access for current and former students. We are dedicated to providing a high level of technical and aesthetic training in Risograph printing for artists, designers, illustrators, photographers, and creatives of all backgrounds. Our classes are offered both to the general public as well as matriculated students at the School of Visual Arts. The RisoLAB has been featured on Atlas Obscura, The Comics Journal, and in a video showcase shot in our studio in 2018 by Riso Kagaku, Inc., among other venues.
This website is in the process of being updated to bring it into compliance with the Americans with Disabilities Act. 
What is a Risograph?
A Risograph is a compact, high speed printer made by the Riso Kagaku Corporation of Japan. It fits into a category of printers known as duplicators. While it may resemble a photocopy machine, a Risograph prints using soy-based ink rather than plastic toner. Designs are printed in individual spot color layers, which are passed through paper stencils that are automatically created and wrapped around ink-filled drum cylinders. While originally designed and marketed to cater to schools, churches, restaurants, and small businesses, the Risograph has been adopted by artists and designers interested in self publishing over the last twenty years. The Risograph's speed, low cost of materials, ease of use, and vivid spot colors make it the perfect tool for printing and publishing small editions of zines, prints, books, and flyers.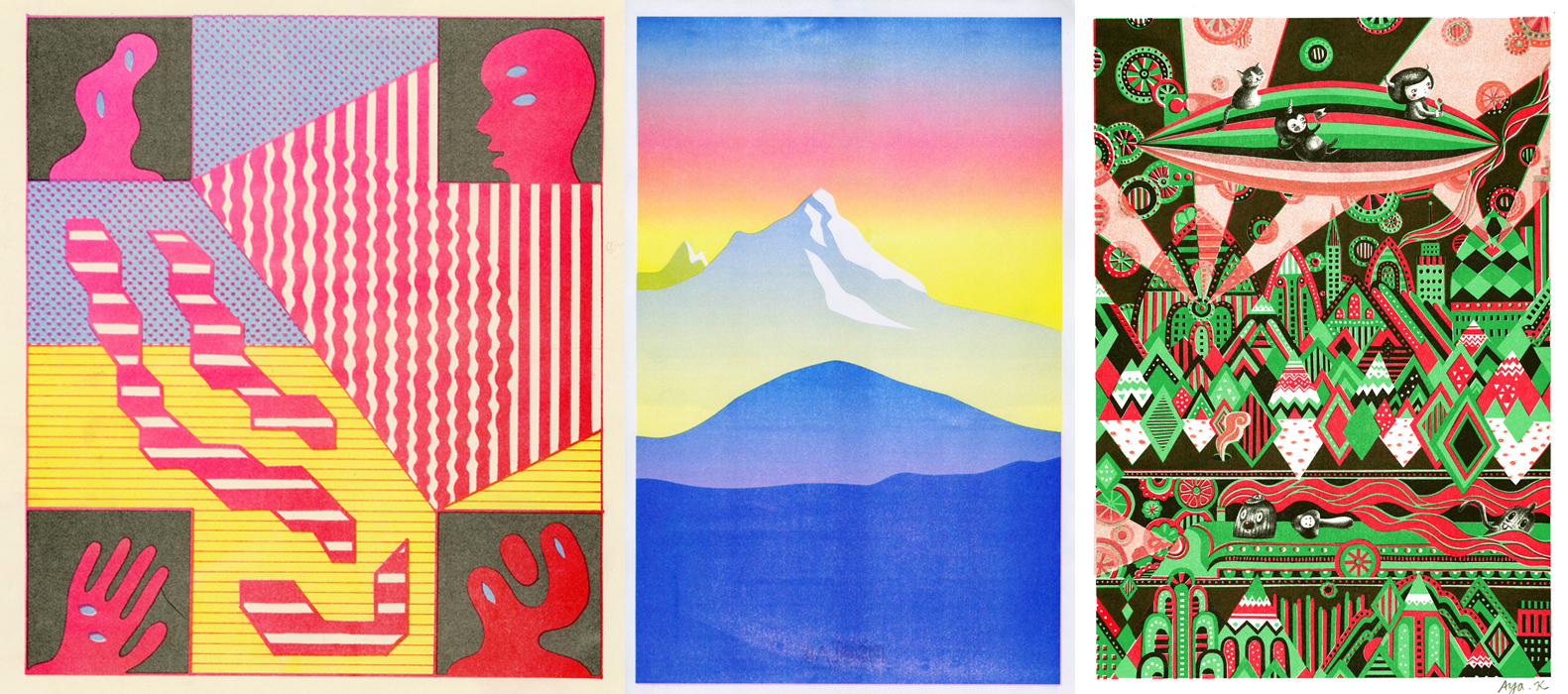 Browse our gallery of Risograph prints, zines, and Riso based works. Our archives draw on the work of over 700 artists, designers, illustrators, photographers and other creatives who have used the RisoLAB since 2015.
View Gallery

We offer both online and in-person classes and workshops during the Fall, Spring, and Summer semesters. Check out our current and upcoming course offerings.
View Program