About Us
The SVA RisoLAB was founded in the fall of 2015 by SVA MFA Visual Narrative Chair Nathan Fox and artist and printmaker Panayiotis Terzis as an interdisciplinary space for printing, publishing and production of Risograph based printed works. We offer several Continuing Education courses, as well as an Undergraduate course and various Open Lab Access options for former students. Our mission is to become a hub of small scale and experimental printing and publishing activity that brings together artists of all backgrounds and disciplines to encourage dialogue across different creative worlds and foster discussion about the role of print media as a vehicle for art and culture, and a way to work out creative ideas to lead to unexpected results that would not be possible with a sole reliance on today's digital tools.
The RisoLAB is a unique space among similar Labs and facilities in the SVA community, as it has gained a reputation in the world of small publishing as the premier academic space for printing Risograph- based work. The majority of our students initially access the RisoLAB by enrolling in a Continuing Education course and then paying a Lab Access fee to use the space in subsequent semesters. This group represents some of the leading artists, designers, photographers, and art directors of the NYC art and design community. They bring the design and print experience they gain by working with our machines and instructors back into their professional practice and have exponentially expanded our reach by spreading awareness of our space through word of mouth.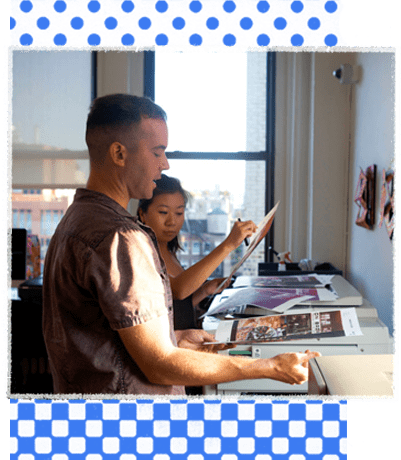 Contact
For more information about the Lab, contact RisoLAB manager Panayiotis Terzis or send a note to our general account.
X
Fall 2023 Hours (SUBJECT TO CHANGE-CHECK GOOGLE CALENDAR)
Monday

10:00 AM - 6:00 PM

Tuesday

1:00 - 6:00 PM

Wednesday

10:00-12:00 PM, 3:00-6:00 PM

Thursday

10:00 AM - 6:00 PM

Friday

10:00 PM -6:00 PM

Saturday

10:00 AM - 10:00 PM

Sunday

10:00 AM - 10:00 PM