About Us
The SVA RisoLAB was founded in the fall of 2015 by SVA MFA Visual Narrative Chair Nathan Fox and artist and printmaker Panayiotis Terzis as an interdisciplinary space for printing, publishing and production of Risograph based printed works. We offer several Continuing Education courses, as well as an Undergraduate course and various Open Lab Access options for former students. Our mission is to become a hub of small scale and experimental printing and publishing activity that brings together artists of all backgrounds and disciplines to encourage dialogue across different creative worlds and foster discussion about the role of print media as a vehicle for art and culture, and a way to work out creative ideas to lead to unexpected results that would not be possible with a sole reliance on today's digital tools.
The RisoLAB is a unique space among similar Labs and facilities in the SVA community, as it has gained a reputation in the world of small publishing as the premier academic space for printing Risograph- based work. The majority of our students initially access the RisoLAB by enrolling in a Continuing Education course and then paying a Lab Access fee to use the space in subsequent semesters. This group represents some of the leading artists, designers, photographers, and art directors of the NYC art and design community. They bring the design and print experience they gain by working with our machines and instructors back into their professional practice and have exponentially expanded our reach by spreading awareness of our space through word of mouth.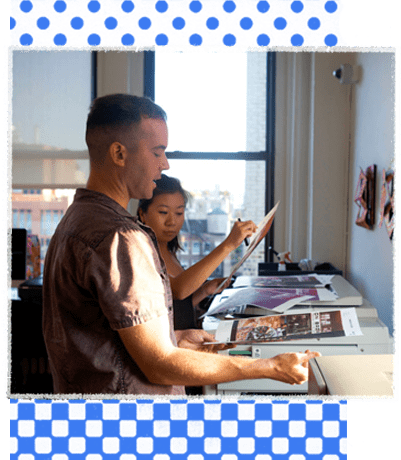 Contact
For more information about the Lab, contact RisoLAB manager Panayiotis Terzis or send a note to our general account.
X
RisoLAB Hours of Operation SPRING 2023
Monday

10:00 AM - 6:00 PM

Tuesday

1:00 PM - 6:00 PM

Wednesday

10:00 AM - 12:00 PM, 3:00 PM - 6:00 PM

Thursday

10:00 AM - 6:00 PM

Friday

12:00 PM -8:00 PM

Saturday

1:00 PM - 8:00 PM

Sunday

10:00 AM - 6:00 PM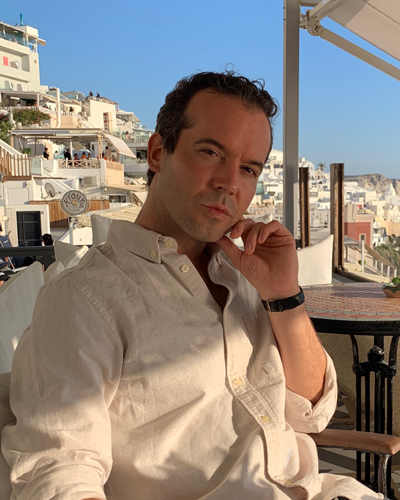 Panayiotis Terzis is an artist, printer and publisher based in New York City. His work has been published by Nieves, Fantagraphics, Landfill Editions, Vice Magazine, and others, and he has been exhibited widely across the US and globally including at the Elizabeth Foundation, Printed Matter Inc., the Swiss Institute, the Pera Museum (Istanbul), Andreas Melas Presents (Athens, Greece) and the Greek Consulate in New York.  He has worked as an illustrator and textile designer with brands and labels such as American Apparel, Digitaria, Elsewhere Space, EyeBodega, McDonald's, Lurid Records, and others. Terzis is also the founder of the Risograph publishing platform Mega Press. His artist books, zines and print editions are held in the permanent collection of the MoMA Library, the Brooklyn Museum, the New York Public Library and the collection of Stanford University among others. Pan's work has been featured on It's Nice That, Booooooom, Juxtapoz, The Comics Journal, Atlas Obscura, and other venues. He teaches printmaking and Risograph printing at the School of Visual Arts in New York City, and is a co-founder of the SVA RisoLAB.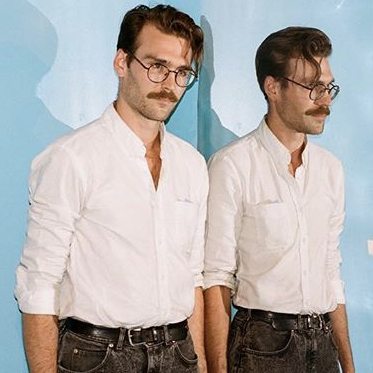 Aidan Fitzgerald received a BFA in painting and drawing from the University of Washington. He was the co-founder of the free Seattle all-comics newspaper Intruder, and the graphic designer for the Seattle small press festival APRIL. He started Cold Cube Press in 2015, and dedicated his art practice to publishing and showcasing other artists and illustrators. Over the years, Cold Cube has published over 120 artists and writers from all over the world. He was the managing editor of Gramma Poetry, and he has taught classes at Western Washington University, Hugo House (Seattle), and Seattle Central Community College. He lives in Seattle for the time being.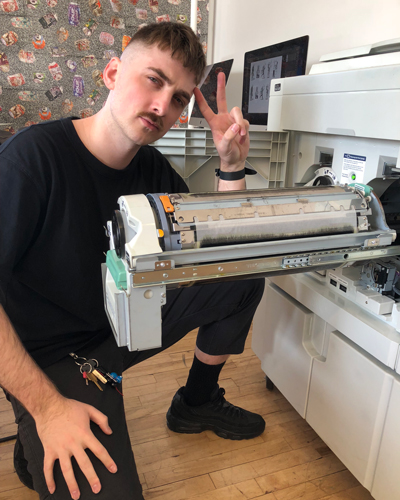 Wren McDonald is an illustrator and cartoonist living in Brooklyn, NY. He's the author of the cyberpunk epic, SP4RX and dystopian revenge story, Cyber Realm as well as several other self-published minicomics including his current series Precinct X99 as well as editing Ex.Mag for Peow. He's worked with clients including The New York Times, The New Yorker, VICE, Wired, GQ and more.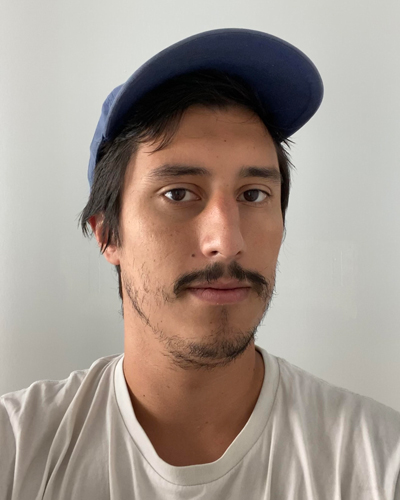 Andrew Alexander
Technician, SVA RisoLAB
Andrew Alexander is a Brooklyn based cartoonist, illustrator, printmaker and publisher. As a printmaker with nearly a decade of experience, he has worked with David Sandlin, Gary Panter and dozens of other artists to make books, prints and clothing. He is one third of the art comic collective known as "Weakly" which has published over 30 books and zine. He has tabled at Comic Art Brooklyn, Toronto Comic Art Fair, MOCCA, Los Angeles Zine Fest, Chicago Art Comic Expo and SPX. He has a comic published in E-Flux #95 WonderFlux.
He graduated from the School of Visual Arts in 2016 and is currently an MFA candidate in the Illustration as Visual Essay program.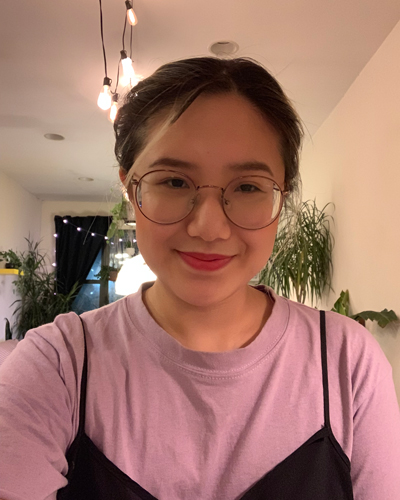 Sarula Bao is a Chinese-American illustrator and graphic novelist based in Brooklyn. She graduated from RISD in 2016 and published a graphic novel, Lissa: A Story about Medical Promise, Friendship, and Revolution in 2017. In addition to being a tech at the risoLAB she also currently works as an instructor at the Robert Blackburn Printmaking Workshop and Exploring the Arts, as well as a graphic novel project manager/visual consultant. Her work explores Chinese culture and queerness through a 2nd generation American experience. 
She has been featured in the Makers Series by the W.O.W Project, Eater SF, It's Nice That, Our Place, Colossal, Childish Books, Beyond Chinatown, Asian American Writers' Workshop, Jadaliyya and worked with clients such as Anthropology News, Buzzfeed News, AirBNB, Slate Magazine, Document Journal, Chronicle Books, Guernica Magazine, Narratively, Lenny Letter, The New York Times, Splice, Our Place, Think Chinatown and Good Good Eatz.