Printing the Future: The Riso Revolution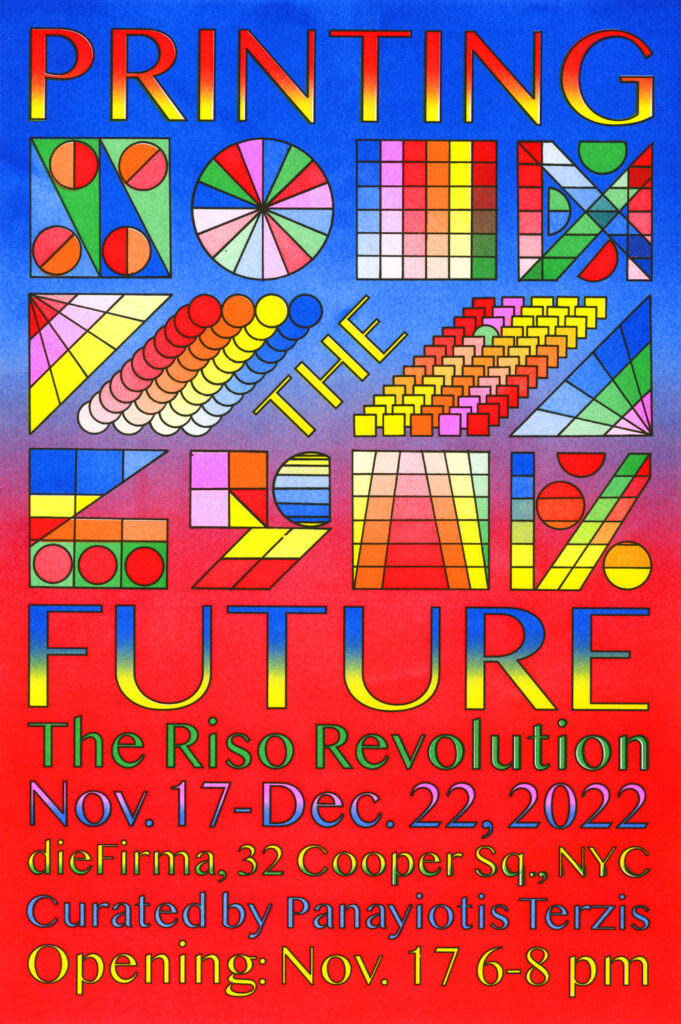 Printing the Future: The Riso Revolution
November 17th-December 22nd, 2022
dieFirma
32 Cooper Sq.
New York, NY
10003
The SVA RisoLAB is thrilled to participate in Printing the Future: The Riso Revolution, a wide ranging Riso-focused gallery exhibition at dieFirma in NYC curated by RisoLAB co-founder, manager, and faculty member Panayiotis Terzis in collaboration with Book Dummy Press.
Current and former RisoLAB faculty, staff, and Artists-in-Residence are prominently featured in this exhibition, which includes works by Wren McDonald, Aidan Fitzgerald, Paul John, Andrew Alexander, Sarula Bao, Greg Foley, Ivy Zheyu Chen, Pixy Liao, Heesang Lee, and Panayiotis Terzis.
Scroll down to read the full press release and view images of the exhibition including the packed opening on November 17th and panel discussion on November 19th as well as selections from over 300 Riso-printed works on view at the show.
————————————————————————————————————
The exhibition features work by more than 250 artists showcasing various book and print objects from across the globe. Also on exhibit will be a collection of limited-edition prints made exclusively for this event, all using the Riso printing process.Printing the Future conveys the explosive nature of this trend with works that are both open and limited-edition prints, as well as zines, books, and installations. The exhibition, located in the basement space of 32 Cooper Square with over 100 works, creates an immersive experience showcasing the many ways in which the Riso process is used by makers.
The death of print has been predicted for more than half a century, but the artists in this exhibition are proving that print media and Riso methods are not only thriving but are revolutionizing visual culture. The impact of this environmentally friendly medium – using rice-based inks and customizable small-batch print runs – can be seen in art book fairs, zine fests, and comic book events worldwide. The hands-on process involves color mixing and produces a vibrant and retro look that has inspired makers from a wide range of mediums to use in collaborations with everything from luxury brands to fine art, graphic design and digital animations.
The Risograph Duplicator was created in the 1980s in Japan, where it was marketed to churches, schools, and restaurants as a fast and affordable alternative to traditional copy technology. Soon, this flexible and adaptable workhorse attracted artists with its capacity to control color layers and positioning. In expanding their art, this network of creatives has pushed the limits of what the Risograph can do and made it a global phenomenon that is transforming both print and digital visual media. During the exhibition, we will be conducting a talk event and workshop. In addition, on display are rare archival items documenting the development of the Risograph by Riso Kagaku Corp.
dieFirma's exhibition captures this wave of dynamic Riso print work created by some of the most innovative artists and publishers working today.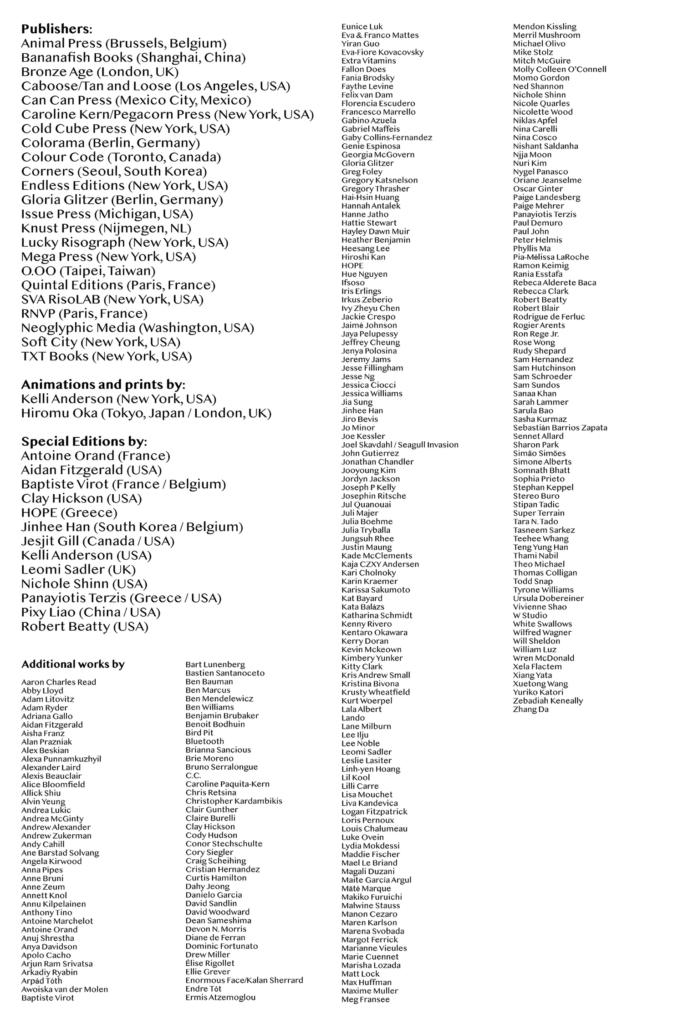 Curator Panayiotis Terzis with Marie Oh at the opening of Printing the Future, November 17th, 2022
Opening of Printing the Future, November 17th, 2022
Opening of Printing the Future, November 17th, 2022
Hiromu Oka, Panayiotis Terzis, and Caroline Paquita-Kern at the opening of Printing the Future, November 17th, 2022
Guests with Jinhee Han and Baptiste Virot of Animal Press at the opening of Printing the Future, November 17th, 2022
Opening of Printing the Future, November 17th, 2022
Opening of Printing the Future, November 17th, 2022
Opening of Printing the Future, November 17th, 2022
Opening of Printing the Future, November 17th, 2022
Kelli Anderson's Riso animations on view at the opening of Printing the Future, November 17th, 2022
Opening of Printing the Future, November 17th, 2022
Opening of Printing the Future, November 17th, 2022
Opening of Printing the Future, November 17th, 2022
Opening of Printing the Future, November 17th, 2022
Curator Panayiotis Terzis at the opening of Printing the Future, November 17th, 2022
Panel Discussion with Caroline Paquita-Kern, Robert Blair, Jinhee Han, Aidan Fitzgerald, and Kelli Anderson moderated by Panayiotis Terzis, November 19th, 2022
Panel Discussion with Caroline Paquita-Kern, Robert Blair, Jinhee Han, Aidan Fitzgerald, and Kelli Anderson moderated by Panayiotis Terzis, November 19th, 2022
Panel Discussion with Caroline Paquita-Kern, Robert Blair, Jinhee Han, Aidan Fitzgerald, and Kelli Anderson moderated by Panayiotis Terzis, November 19th, 2022
Panel Discussion with Caroline Paquita-Kern, Robert Blair, Jinhee Han, Aidan Fitzgerald, and Kelli Anderson moderated by Panayiotis Terzis, November 19th, 2022
Caryatids, Risograph print by Panayiotis Terzis, 2020
Spinal Antennae, Risograph print by Robert Beatty, 2022
Risograph print by Leomi Sadler, 2022
Risograph print by Antoine Orand, 2022
Risograph print by HOPE, 2022
Golden Mouse, Risograph print by Pixy Liao, 2022
Mega Fruit '22, Risograph print by Panayiotis Terzis, 2022
48 Posters, Riso printed book by Baptiste Virot published by Animal Press, 2022
Risograph printed spread by HOPE from Trapper Keeper 3 published by Mega Press, 2015
Risograph print by Kelli Anderson, 2022
Spread from Sniff, Risograph printed book by Kurt Woerpel
Particle Horizon, Risograph printed book by Nichole Shinn published by TXTbooks, 2022
Landslag, Risograph print by Bastien Santanoceto, published by RNVP, 2022
Spread from La Vie Ici, Risograph printed book by Bruno Serralongue, published by RNVP
Spread from Augure, Risograph printed book by Rodrigue de Ferluc, published by RNVP, 2022
Risograph printed poster by RNVP, 2022
Risograph print by Greg Foley, 2017
Spread from If you Lived Here, Risograph printed book by by Josephin Ritschel & Gloria Glitzer (Franziska Brandt, Moritz Grünke), 2019
Spread by Andrew Alexander from Cram #1, published by Cram Books, 2022
Spread from Trapper Keeper: Fungal Harvest, Risograph printed book by Matt Lock published by Mega Press, 2020
Spread by Phyllis Ma from Trapper Keeper 5 published by Mega Press, 2017
Guia de impression de Riso, published by Can Can Press, 2022
No Comment, Risograph printed book by Niklas Apfel published by Can Can Press, 2022
Fees Papillons, Risograph printed book by Gabriel Maffeis, published by Quintal
Billboard, Risograph print by Tyrone Williams published by Bronze Age
Watching a Supermodel Sleep on a Plane by Sam Hutchinson, Risograph printed book published by Bronze Age
Risograph print edition by Drew Miller published by Harpy, 2019
Both And, Risograph printed book by Anuj Shrestha published by Issue Press, 2022
Risograph print by Marie Cuennet, published by Knust
Moving Dots Speaking About Dots #2, Risograph printed book by Rogier Arents and Bird Pitt, published by Corners and Knust, 2022
Pantocrator, Risograph printed book by Julia Boehme, 2022
Print edition by Simone Alberts published by Knust, 2022
Print edition by SuperTerrain published by Knust, 2022
No Magic in Riso, published by O.OO, 2022
Go Back